2021 is the Year of Saint Joseph, a year declared by Pope Francis to honor the 150th Anniversary of the Saint's Proclamation as Patron of the Universal Church.  
The year was established so that "every member of the faithful, following his example, may strengthen their life of faith daily in the complete fulfillment of God's will."  2021 marks the year-long celebration of the Anniversary of our 110th Year supporting Missionaries and the people they serve.  This year is a time for us to place ourselves anew under Joseph's protection and patronage, in imitation of Jesus and Mary. 
 

Mission Prayer to Saint Joseph

Glorious Saint Joseph, model of all those who are devoted to God's work, obtain for me the grace to labor in a spirit of penance for the expiation of my many sins.  Help me to work conscientiously, putting the call of duty above my natural inclinations; to work with thankfulness and joy, considering it an honor to employ and develop by means of labor the gifts received from God.  Oh God, guide of those who listen and helper of those who hear your voice, speak to me, as you did to Saint Joseph, and help me accomplish the things you give me to do.  Oh God, you love your people and bless the ordinary lives we quietly live. As you blessed Saint Joseph, bless what I do, however, hidden and simple it may be, and let all I do be done with love.  Give shelter, O God, to those who need it, and bring together families divided. Give us enough to eat, and decent work to earn our bread. Care for us, O God.  Bless all families, O Lord especially those in need.   Remembering the life of your Son, we pray for the poor, for those who lack a good home, for those in exile. Grant them a protector like Joseph, O God.   Saint Joseph, your "fiat" protects Mary and Jesus and teaches your Son, Jesus to "do the will of the Father."  Called by God to serve the Mission of Jesus, you cooperated in the great mystery of Redemption are truly a minister of Salvation.  Blessed Saint Joseph, guide us in the Path of Life.

Amen.
Saint Joseph shows us how to protect and provide for others as seen throughout his entire life.  From the beginning, he safeguarded Mary's reputation preserving her life, he protected Jesus from Herod and he continued to guard, to defend and keep holy watch over the Child Jesus and his mother, Mary. You, too can be a giver of protection for children and their families in the Mission lands who live in poverty.  Your support for the Missions can help assist poor families in the education of their children. From the remote village of Bintulu in Malaysia, where there are only two small rooms for 70 children, to the small town of L'Asile in Haiti, where teachers may go without pay for weeks, as families can't even afford food let alone tuition, your help  will give to children who seek to learn and know that God loves them.  An offering of $50 helps provide the children with what may their only meal that day for one week $10 buys textbooks for 2 children.  Saint Joseph, in so many facets of his life, shows us, how to live our lives as a Missionary. It is a joy for us to share in this Anniversary year honoring Saint Joseph, as the faithful in the Archdiocese of Philadelphia through the Pontifical Mission Societies celebrates our   Anniversary of 110 Years in prayer and support of Missionaries world-wide.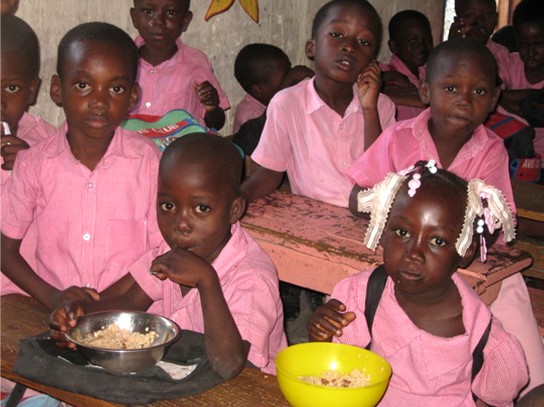 Let us emulate Saint Joseph so that we can approach the rest of the year with hearts overflowing with love for God and a raised awareness and ardent appreciation of the great sacrifice Jesus made for us. Thank you for your ongoing prayers and support!