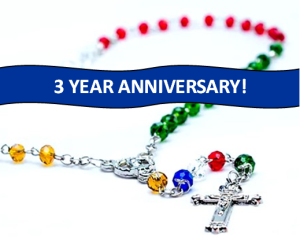 As you all may know, in March 2020, when the Nation was shutting down and people were struggling with an influx of feelings of fear, confusion and for many, loss, the Office for New Evangelization responded with a beacon of HOPE and the Rosary Campaign for an End to the Coronavirus was born.  Since 2020, the rosary was prayed for about 367 nights, with an estimated 263,800 households tuning in!  After THREE YEARS, it is time to celebrate the 13,190,000 prayers that we have offered up together as a "Rosary Family."
We hope you will join us on Monday, MARCH 20, 2023 for a special night celebrating this Anniversary.  We have invited back some familiar faces that will surely be recognized by our Rosary Family and we are excite to pray with you altogether.
LIVE ARCHDIOCESAN ROSARY
CONTINUES ON MONDAYS AT 8PM  
[Zoom link or Call 646-558-8656 & enter Webinar ID: 494 480 541].
"You Shall Be My Witnesses"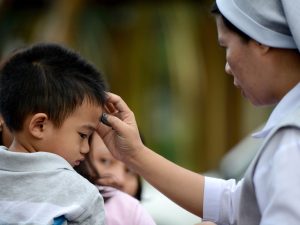 This LENT, live out your Baptismal call to be Missionary and  "witness" to the Lord;  turn your heart and mind back to Him through prayer, fasting and sacrifice.
As Catholics, especially during Lent, we are blessed to be members of the Universal Church, and through that communion, we ask the Holy Spirit to show us the needs of our brothers and sisters in Christ that we may make an offering for them. 
PRAY
Lent is an excellent time to grow your relationship with the Living God.   Add prayer to your daily routine.  Be God's witness during Lent and show others that you are faithful by praying the Rosary in public; on your walks outside, at the grocery store, gas station or post office.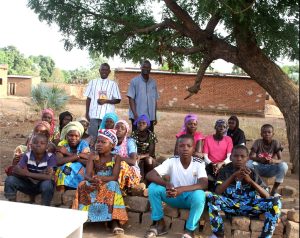 FAST
Fasting is one of the most ancient actions linked to Lent and is a way to endure to bear "witness" to Christ.  It is difficult, but most of us who fast, can and will end our fast.  We will eat again.  Millions of people in Mission lands, especially children, do not have that option. Learn More on the ways you can support projects feeding the hungry in Syria.
SACRIFICE
Our Baptism into the Catholic faith teaches us that Lent is a time to sacrifice.  It is a time to be a witness to our Lord by giving joyfully   A time to reach out and love the poor and needy.  And as, Blessed Pauline Jaricot, the Societies founder, says, "To truly help others is to bring them to God."  Learn more on how our sacrifices can benefit the people of Chad, in central Africa..