THE POPE'S COVID-19 EMERGENCY SOLIDARITY FUND
What we are experiencing NOW is what life is like EVERYDAY in Mission lands. NOW is the time to provide for those who cannot provide for themselves. Americans everywhere are struggling . . . families can't access basic healthcare needs, food supplies are limited and everywhere folks are out of work and searching for a way of income. This is called a pandemic, but for families in the MIssions – it is a daily occurrence. ACT NOW. 
Pope Francis has invited people of all faiths to join him on May 14 for a day of prayer, fasting and works of charity saying, "Today, the world faces imminent danger that threatens the lives of millions of people worldwide, due to the rapid spread of the Covid-19 coronavirus. Along with affirming our belief in the importance of the role of medicine and scientific research in treating this pandemic, we do not forget to turn to God, the Creator, in this great crisis. We invite all people, throughout the world, to turn to Him through prayer, supplication and the works of good, each individual in his place and according to his religion, belief or doctrine, so that God eliminates this pandemic, helps us out of this affliction, inspires scientists to discover a drug that will end it, saves the world from the health consequences…"
Pope Francis's Prayer to Mary during Coronavirus Pandemic
O Mary, you shine continuously on our journey as a sign of salvation and hope. We entrust ourselves to you, Health of the Sick.  At the foot of the Cross you participated in Jesus' pain with steadfast faith.You, Salvation of the Roman People, know what we need.  We are certain that you will provide, so that, as you did at Cana of Galilee, joy and feasting might return after this moment of trial.  Help us, Mother of Divine Love, to conform ourselves to the Father's will and to do what Jesus tells us:  He who took our sufferings upon Himself, and bore our sorrows to bring us, through the Cross, to the joy of the Resurrection. Amen.
We seek refuge under your protection, O Holy Mother of God. Do not despise our pleas –
we who are put to the test and deliver us from every danger,
O Glorious and Blessed Virgin. Pray for Us.
Click HERE for an update on how COVID19 is affecting Missionaries and the Poor in Mission Lands
During this difficult time of stress, worry and for the most unfortunate,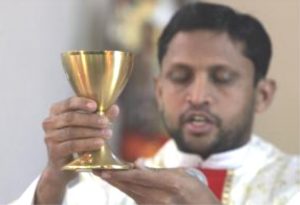 illness,

prayer is essential

.  The Pontifical Mission Societies

will arrange Masses offered by a Mission Priest prayed in a Mission Diocese around the world.  Click

HERE

to give the gift of prayer to your loved ones who may be experience illnesses, anxiety or loss.