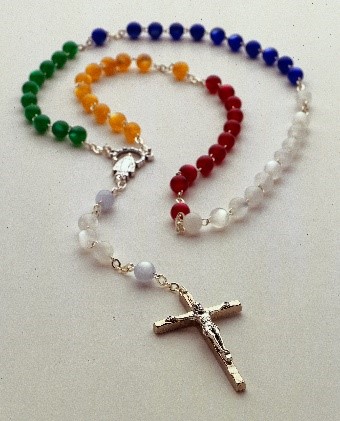 Make a commitment to pray the Rosary.  Join the Mission Societies Mondays at 8PM to pray virtually via Zoom or phone on the Archdiocesan LIVE World Mission Rosary.  United in this most powerful prayer, we ask for the intercession of the Blessed Virgin Mary for our Catholic faith, personal intentions and for the Missions world-wide. To join in, click HERE
Over the last month, during the third decade in which we remember the Missions in Europe, we have especially prayed for peace in Ukraine.  You can learn more on the Missions in Ukraine and how you can help HERE.  You can also pray this prayer for Ukraine provided by the Sisters of IHM
From your heart, Holy One, to the suffering heart of Ukraine,
to a world both beautiful and broken, pour out, we pray,
your solace to hearts choked with grief;
your strength, to those shattered by trauma;
to all now in flight, rest in safe shelter;
to all left behind, your tender presence.
Turn those who seek to dominate and destroy
towards the way of peace, the work of justice.
In trust, we pledge our lives to no more war, war never again.
May this be so for all your people on this day and on every day
held in your unconditional love.
-Sister Chris Koellhoffer, IHM