Pope Francis's Prayer to Mary during Coronavirus Pandemic
O Mary, you shine continuously on our journey as a sign of salvation and hope. We entrust ourselves to you, Health of the Sick.  At the foot of the Cross you participated in Jesus' pain with steadfast faith.You, Salvation of the Roman People, know what we need.  We are certain that you will provide, so that, as you did at Cana of Galilee, joy and feasting might return after this moment of trial.  Help us, Mother of Divine Love, to conform ourselves to the Father's will and to do what Jesus tells us:  He who took our sufferings upon Himself, and bore our sorrows to bring us, through the Cross, to the joy of the Resurrection. Amen.
We seek refuge under your protection, O Holy Mother of God. Do not despise our pleas –
we who are put to the test and deliver us from every danger,
O Glorious and Blessed Virgin. Pray for Us.
Pray the Live Rosary for the End of the Coronavirus
with the Faithful of the Archdiocese
Join us online, by phone or in spirit as we pray the Rosary every night at 8 PM. We will ask the miraculous intercession of the Blessed Virgin Mary to put an end to the Coronavirus..
When:  Every Night: 8:00-8:30 PM (Eastern)*
Please click this link to tune in each night at 8 PM:  zoom.us/j/494480541…
Click the link 5-10 minutes early to allow your device to download any necessary software.
Or dial-in by telephone:   Dial: (646) 558-8656  Enter the Webinar ID: 494 480 541
Hosted by: Meghan Cokeley, Office for the New Evangelization, Archdiocese of Philadelphia
                                               * Will continue – date will be determined for ending

During this difficult time of stress, worry and for the most unfortunate,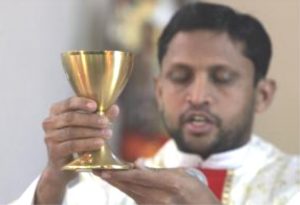 illness,

prayer is essential

.  The Pontifical Mission Societies

will arrange Masses offered by a Mission Priest prayed in a Mission Diocese around the world.  Click

HERE

to give the gift of prayer to your loved ones who may be experience illnesses, anxiety or loss.