Masses celebrated for your LOVED Ones for Any Intention & Occasion
For a Single Mass or Sets of Masses – Click Here
For Mass Enrollments [15,000 shared Masses] click Here
OR to have a Mass celebrated by a Missionary priest, mail this Mass Card Form with your information.
Throughout the year, people want to remember their loved ones in a spiritual way. The Mass is the perfect offering made to God because it is Christ Himself who is priest and sufferer.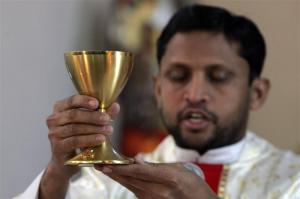 Masses for Loved One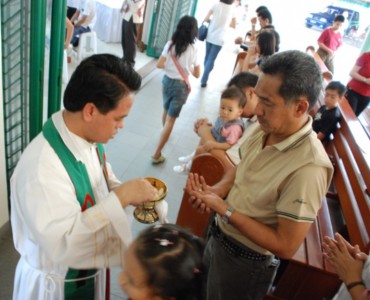 The Mass intention can be to ask God's blessing and grace on a loved one during his or her entire life, from birth to death. So often we think Masses can be celebrated only for the deceased, but they may be offered for best wishes, healing, get well, birthdays, anniversaries or simply to express thanks and praise to God for a loved one.
A Mission priest will celebrate Mass for you, a friend or family member, living or deceased.
Your Mass Offering is a special help to a Mission priest, poor himself and serving among the poorest of the human family – most living on $2 a week. Mass intentions are sent to Priests in Mission dioceses worldwide — to Africa, Asia, islands of the South Pacific & remote regions of Latin America.
Sacred Vestments & Vessels for Mission Priests
Vestment and Vessel Order Form
"Liturgical celebrations in the "Mission Church," especially, the Sacrifice of the Mass, are enhanced by Memorial gifts. To remember a loved one, consider an engraved Chalice or Vestment.
+Enrollment—Individual for One or Ten Years or Family for Ten Years: The person or family and their intentions will be remembered for the number of years enrolled. This person or family will share in 15,000 Masses celebrated annually together with a remembrance in the prayers, good works and sacrifices of all Missionaries throughout the world.
Additionally, they will be included in the intentions of a special daily Mass celebrated at the Vatican.
+Perpetual Enrollment: The person or family receives all the remembrances as in the Enrollment above, but ongoing forever.
+$5 or $10 Masses: Mass cards are available for Living or Deceased Persons for all types of occasions and/or Special Intentions.
+Novena Masses: Nine consecutive days of prayer are offered for the person or intention.
+Set of Gregorian Masses: Thirty consecutive days of prayer are offered for the deceased.
+World of Masses: A Mass will be celebrated by a Mission priest on each continent of the five continents of the world for the person or intention.
Each Enrollment comes with your choice of a Memorial Print.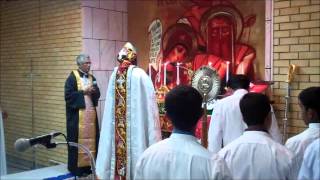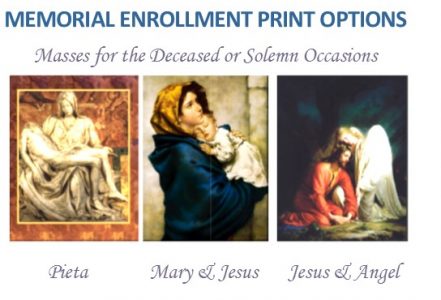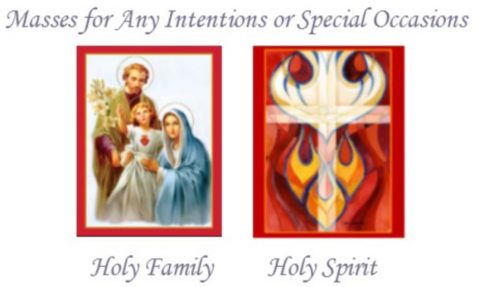 Contact us if there is a special occasion or some other type of Memorial print that you would like to be included in the Enrollment Mass. We can create other versions for use.