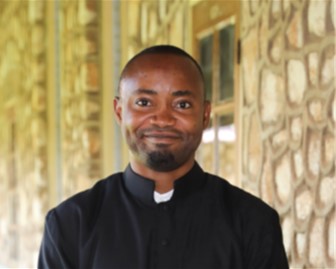 "I want to be of service . . ."
Jacob is a Seminarian at Saint Thomas Aquinas Major Seminary in Bambui, Cameroon.
Jacob comes from a large family and while his faith is strong, realizing his vocation has not been straightforward.  "My father said I should go to University and that priests are too reliant on the help of others," says Jacob. "My mother supports me, and the love of my family is very important."
Jacob's love and respect for family shines through in his ambition to reach out to the elderly and forgotten women in his community through his ministry.  ˜Sometimes when they are widowed, they are left with nothing," he says.  And sadly, it is true that there is a stigma attached to widowhood. Women often face persecution, and risk losing their possessions and livelihoods, even in today's world.
 "I know I have something to contribute," Jacob shares.  "I just want to do something simple, to be of service.  As student Seminarians we reach out to the local community and help people in need."
WOULD YOU help and ADOPT-A-MISSION SEMINARIAN?
For the future of our faith and for the education of priests and Religious men and women living in Mission areas, their studies would not continue without the support of the members of     
Saint Peter Apostle 
. . . one of the Pontifical Mission Societies
22 Saint Peter Apostle Appeal Copy Inside Left Page
You can help a young man answer God's call.
In Cameroon, where Jacob is preparing for his priesthood, there is a great conflict with the state army and independence movements.  Innocent people are being killed, villages destroyed, fear and anguish prevail here.
Sadly, Jacob is acutely aware of the risks of being a priest in Cameroon's present environment.  He knew Father Cosmas Ondari, a Mill Hill Missionary, who was murdered tragically while helping those affected by the struggle. 
"To cope with situations, I often speak with the Spiritual Director, explains Jacob, "I am very afraid about what is going on. He consoled me and asked me to write a prayer."
Under Photo: These brave young men are preparing to serve their communities.
"During this time, the situation is traumatic; we hear gun shots every day.  We have to transform this situation for our sake and the sake of our communities."
The future priests and Religious Men & Women supported by Saint Peter Apostle can transform situations and can make a difference.
Like in Saint Peter's Seminary in Malawi, Africa, where there are 88 students being trained at the Seminary and 14 are on their pastoral placement.  
The Rector, Father Wezi Mfune tells a story of hope, "We managed to purchase a mini-bus in June which has been a great help, as it allows the students to visit those in prison, the sick and the elderly, and to work in the local hospitals. The deacons of the Seminary are able to preach and administer the Sacraments of Marriage and Baptism. This is a great joy for us!"
And 73 Seminarians from the Lux Mundi Sampran Major Seminary in Bangkok, Thailand, through support of Saint Peter Apostle, visit the elderly and infirmed in nearby villages, and are able to work in the local Mission hospital there.
Your Help can make a difference.
Internationally, Saint Peter Apostle, has the unique role of training the future leaders of the Church.  Men, and women too, training for the priesthood and for the Religious life in over 150 countries receive formation and support.
The faithful in Philadelphia, for over 110 years, have aimed to ensure no Spirit-stirred vocation is turned way due to lack of financial
Will you ADOPT-A-MISSION SEMINARIAN TODAY?
$1.92-a-day or $700 provides for a FULL Year's Scholarship for a Mission Seminarian or Religious Sister or Brother
$50 develops technology for learning. 
$250 helps secure transportation for community outreach
Families of these men and women in the Missions live on about $2 weekly, so any amount that you can provide can make a difference.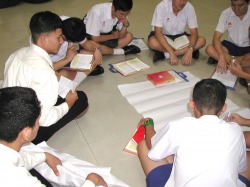 Saint Peter Apostle trains young men and women to serve the people in their native countries.   When you make a difference for one of these, they in turn can help change the lives of the people they serve.
Most importantly, remember to pray for all considering a vocation and for those who have answered the call and are in training.  Jeanne Bigard, founder of Saint Peter Apostle, understood the urgency to support the Missions . . . not only financially, but with prayer.   
Saint Peter Apostle is one of the Pontifical Mission Societies.  Its founder, Pauline Jaricot, like Bigard, dedicated her life to prayer for the Missions.   Read about this model of prayer and Church, in her year of beatification, in the newest edition of MISSION.  This FREE publication, inaugurated by Venerable Archbishop Fulton Sheen, features updates on Missionaries and their ministries. Go to phillymissions.org to order yours today.