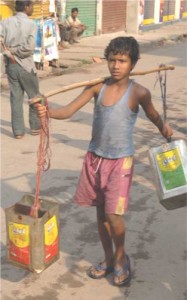 From the streets to the priesthood.
As a child, no one would have guessed the Lord's calling for Rayalu Kalva.  As many of the children in the village of Telakantegudem, Rayalu found himself begging for food.  His father died when he was very young and, to this day, he does not know where his mother is.  Rayalu was an orphan, a street child, like so many in this town in the south of India.
"I was without much food for many years during that time," remembers Rayalu, "until Sister Monica happened to see me one day." Sister Monica invited me to stay at the convent.
"Today, I am a priest because Sister Monica took care of me," Father Rayalu Kalva explains. "After completing the tenth grade, Sister asked me if I thought I was interested in joining the Seminary. With her help and the support of the Pontifical Mission Societies to the St. John's Seminary, I was ordained."
"After the celebration of my first Holy Mass, I was praying in the church alone," Father continues, "God's inspiration told me that I should help feed and educate the orphans and street children, just as Sister Monica helped me."
Father Kalva's story is like those of so many in the Missions – called to God for His people. As Seminarians, as priests, as Religious Men and Women – all remind those they serve that they are not abandoned, and the Lord loves them.
Like Sister Christine Mwaka of the Religious Community, Handmaids of the Blessed Virgin Mary, that manages HIV/AIDS programs and staff schools and parishes in Zambia.
"What I do is connected to what St. Paul says," Sister Christine explains. "'How can they believe in Him if they have not heard about Him?' St. Paul tells us,
We must hear the call of the Lord and be the Lord's voice