To celebrate the crescendo of the Extraordinary Year of Mission, The Pontifical Mission Societies hosted and presented multiple events to highlight the occasion, leading up to World Mission Sunday on October 20th..
During the entire month of October, A large, 50-foot Wooden Rosary was on display at the Cathedral, where visitors could pray & write their intentions on Ribbons symbolizing Mission areas and tie it to the larger-than-life World Mission Rosary. All could also venerate the Archdiocesan Mission Cross with a sacred Relic of the "One True Cross." On weekdays after the 12:05 Mass, many also gathered to pray the World Mission Rosary for the World, Missionaries and the people they serve,  every Weekday in October.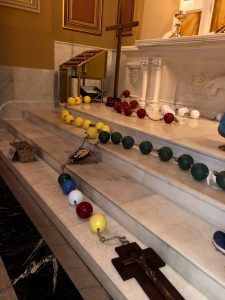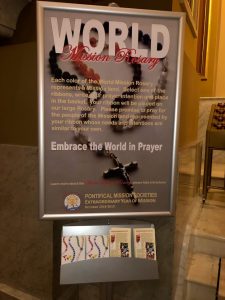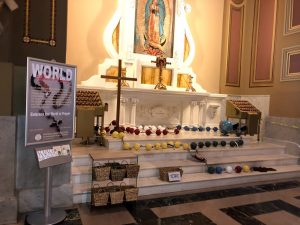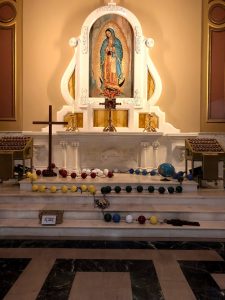 On October 1st, to kick off the Extraordinary Month of Mission, employees of the Pastoral Center made World Mission Rosaries and watched a live stream of the EMM Mass at the Vatican.  That evening,  catholic convert from Judaism Cindy Burdett made a presentation on Saint Thérèse of Lisieux, Patroness of the Missions.  She explained  how Saint Thérèse of Lisieux, a cloistered Carmelite Nun, has become the Patroness of the Missions!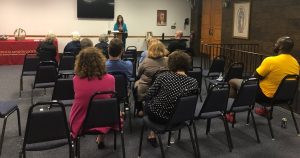 On Oct 14 to Oct 18 from 11am to 1pm Missionary Saints Sacred Relics were on display in the Chapel. On October 17th, Visitors were able to experience the living God through veneration of relics of his Saints. Father Jason Kulczynski shared his collection, his story and his knowledge of relics!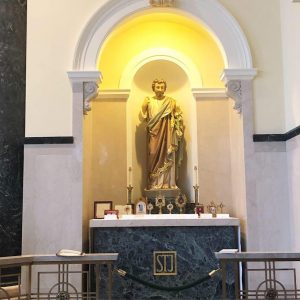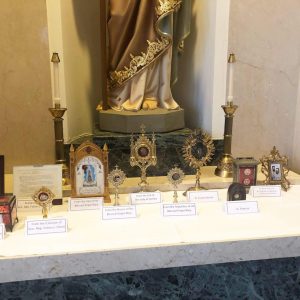 On Oct 16th, employees of the Pastoral Center were invited to the 8th floor (location of the Pontifical Mission Societies Office) to enjoy desserts from various Mission countries.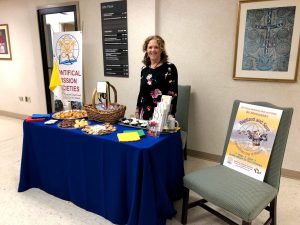 That evening, many joined us for the amazing life story of Venerable Archbishop Fulton Sheen, a shining example of what it means to serve God and men. After the documentary viewing, those in attendance made their own World Mission Rosary!