Near the tallest mountain, Mount Kilimanjaro in Africa, with its cultivated lower slopes and wildlife-rich terrain, one finds a stark and different reality in one of the communities.   Living in the town and Diocese of Moshi, Tanzania, are abandoned children. 
Each child's story is different . . .  some of the children have lost their parents due to illness or HIV/Aids, some of the children left their parents who neglected or abused them,  some of the children were just left on their own, to fend for themselves . . .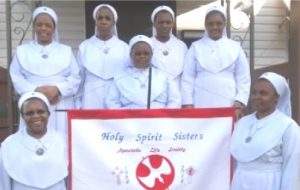 Luckily, just a few short miles away in the shadow of Mount Kilimanjaro . . . is the Mother House for the Holy Spirit Sisters.  This Missionary Religious order was founded for teaching, pastoral care, nursing and social work.  In Tanzania, God inspired them to hear the cries of the poor and abandoned children.
Responding to God and fulfilling their Mission, the Holy Spirit Sisters opened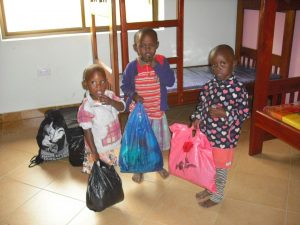 the Sun of Hope Village Orphanage. The Sun in the orphanage's name has come to represent another day in the lives of each of these children.
Children, walking from miles and miles, most without even a pair of shoes, arrive at the orphanage with just the clothes on their back. The orphanage, now opened for over two years, is not just bed and breakfast for the children, it has become a home.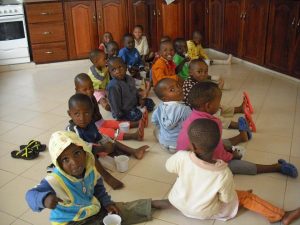 Twenty children are taken care of here and the number is growing, each and every day. The children are cared for and wanted. They are given a bed, food, clothes & most importantly, an education. Their future is looking brighter and brighter, like the Sun!
Through prayers and financial help from the Missionary Childhood Association, the Holy Spirit Sisters are able to care for and teach the children about Jesus! Last year, the Sun of Hope children celebrated their first Christmas.  They all worked together to make their very own Christmas Tree.
What does your Christmas gift list look like?  Would you add a gift – for a child in need in the Missions?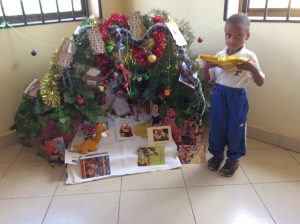 Through your prayers and generosity, you can give a gift of joy to a child, like those in the Sun of Hope Orphanage, in 1,111 Mission Dioceses around the world. Will you help?  Especially in this Extraordinary Year of Mission in Philadelphia.
A gift of $35 helps provide food, care and an education, including $5 for a mid-day meal.
Perhaps you can offer $80 for two children with a bit more to help the Sisters make room for more children. Anything you are moved to send will bring such great joy – and hope to a child half a world away.
Like all children around the world, the orphans at Sun of Hope Village, were so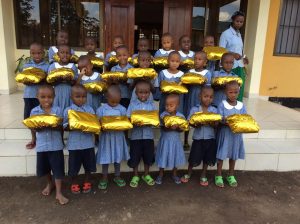 happy to receive their first Christmas gifts!  And, each of the children, received a new uniform.  Sister Sophia, a Holy Spirit Sister in Tanzania, says that the children "are very good students." She adds, "We thank everyone who has helped us.  May Our Good Lord God, Bless You!"