We are called to preach and proclaim the Gospel "courageously and in every situation." Pope Francis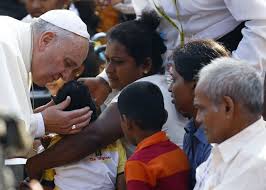 When people speak of Pope Francis, they often refer to the pontiff as the "Pope of Firsts." Jorge Mario Bergoglio, the Cardinal Archbishop from Argentina, is the first pontiff in the 2,000-year history of the Roman Catholic Church to be chosen from Latin America, the first Jesuit to be elected, and the first to take the name Francis. Judging from statements at the start of his pontificate, he is also the first pope since the early Church to emphasize evangelization—or MISSION—as the highest priority in the Church.
While every recent pope has noted that all Christians, by virtue of baptism, are called to Mission, they have presented evangelization as one of many church works, such as preserving orthodoxy in church teaching, increasing vocations and encouraging Sunday Mass attendance and confessions. While not denying the importance of these issues, Pope Francis sees them in the context of Mission. "May the whole of ministry be in a Missionary Key," he says.
To serve others as Missionaries allows us to grow in our holiness as Missionary disciples.  As Christians, we are challenged to give out hearts to God: to do something more, take action beyond ourselves and HELP someone else.  Pope Francis teaches us that "by loving and helping the poor, we love and serve Christ."
Saint Joachim
Patron Saint of Fathers & Grandfathers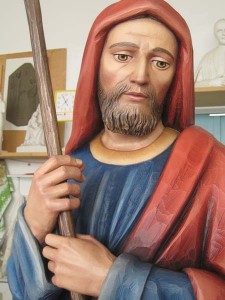 Saint Joachim, the father of our Blessed Mother Mary, is considered one of the patron Saints of fathers and grandfathers [the other is Saint Joseph, Mary's husband and Jesus' father on earth]. Joachim, of the tribe of Juda and the family of David, was a shepherd of Nazareth.
He married Saint Anne and both lived in the fear of the Lord and the practice of good works. They divided all their wealth into three parts: the first was regularly given to the temple, for its support and that of the ministers of religion; they gave the second part to the poor, while the last and least served for the needs of the family. Nonetheless, happiness had not come to this home — they could not conceive and have children.
For over twenty years they prayed to God to bless them with a child. Much disgrace was brought upon Joachim and Anne because they did not have children – many in Nazareth thought that because they could not children – they were not a blessed couple.  God was not bestowing His blessings on them.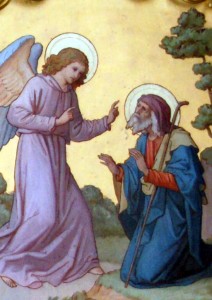 One day when Joachim was alone in the fields, the Angel Gabriel came and stood before him. Joachim prostrated himself, trembling with fear. 
"Do not fear", said the heavenly messenger. "I am the Angel of the Lord, and it is God Himself who sends me. He has heard your prayers; your alms have come before His presence. Anne, your spouse, will bear a daughter whose happiness will be above that of other women; She will be blessed and named the Mother of eternal blessing. You will name the Child Mary and consecrate Her to God when the time comes. The Holy Spirit, from the time She is in the womb of Her mother, will dwell in Her soul, and He will accomplish in Her great things." With those words, the Angel disappeared. The Archangel's announcement and the Lord's promise were fulfilled. Joachim in his turn was faithful to the commands of the Lord.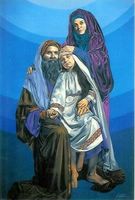 His daughter received the name of Mary, and when She was three years old, he and Saint Anne entrusted Her to the pious women who in the temple of Jerusalem brought up young girls consecrated to the Lord.
Mary had lived there under the gaze of God for eight years, when Joachim died, laden with merits and virtues. Anne, his spouse, had him buried in the Valley of Josaphat, not far from the Garden of Gethsemane, and one year later rejoined him there.   Lives of Saints:  Saint Joachim by Msgr. Paul Guérin [Bloud et Barral: Paris, 1882], Vol. 9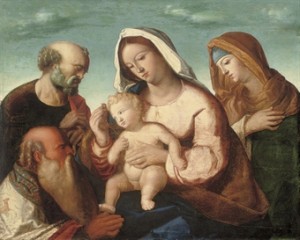 Juan Diego was born in an area of Mexico that is just north of modern day Mexico City. Historians describe him as a poor man—one that did not belong to the ruling or educated class. He was not, however, a slave or servant. Juan was known to be a hard worker. He owned a small piece of land on which he built a house and farmed. He also made mats out of local cactus fibers to support himself and his wife. When he was about 50 years old, he was baptized into the Catholic faith by one of the first Franciscan Missionaries to reach Mexico. He was given the Christian name Juan—Spanish for John. Juan was very devoted to his faith, and walked 14 miles several times a week to attend Mass.
Being a poor man, Juan walked barefoot, clothed in a cape, or tilma, made of fibers from the maguey cactus. This material is similar to rope and somewhat uncomfortable to wear; only the wealthy had access to cotton.
It was during one of these walks that Juan first encountered a beautiful young woman dressed like an Aztec princess. She told Juan that she was the Virgin Mary and that she wanted a church to be built on the spot where they stood. She asked Juan to bring that message to his local Bishop [also named Juan], Most Reverend Juan de Zumarraga. Juan delivered the message but the Bishop was skeptical—why would the Blessed Mother appear to one so lowly? He asked for proof that it was truly Mary. As Juan was preparing to meet again with the beautiful Lady, he got word that his beloved uncle was gravely ill. He felt guilty for disobeying the Bishop but hurried to see his uncle, avoiding the route where he had met Mary. She found Juan as he traveled, assured him that his uncle was cured, and told him to go to the hillside to gather flowers in his tilma as proof of her true identity.
Juan gathered roses—flowers that never grew in that area—and presented them to the Bishop as a gift from Mary. As he opened his tilma and the flowers spilled out, everyone was amazed that the image of Mary herself was imprinted on his cloak. Juan's tilma hangs to this day in the Basilica that was built as the Blessed Mother instructed.
Juan lived out his life in a hut built next to the church. He died at age 74 and was canonized in 2002. He was the first indigenous American saint.
Saint Kateri Tekakwitha


Feast Day – July 14th
First Native American Saint and "Model"
Missionary
Kateri was born in 1656 of an Algonquin mother and a Mohawk Chief in the Mohawk village of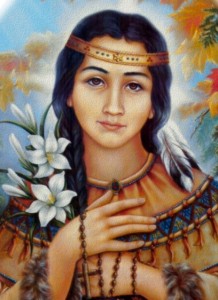 Ossernenon [modern day Auriesville] in upstate New York. When she was only 4 years old her parents and brother died of smallpox. Kateri survived the disease, but it left her face badly scarred and her eyesight impaired. Because of her poor vision, Kateri was named "Tekakwitha", which means "she who bumps into things". Kateri was taken in by her uncle who was bitterly opposed to Christianity. When she was 8 years old, Kateri's foster family, in accordance with Iroquois custom, paired her with a young boy who they expected she would marry. However, Kateri wanted to dedicate her life to God by remaining single and offering her life to Jesus.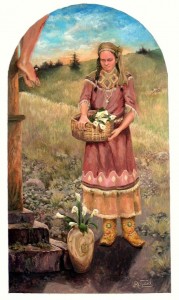 She had fallen in love with Jesus and decided to remain a virgin. Virginity was unheard of amongst the Indians and they pressured her to marry and to work on Sunday, but she refused to do so. When they connived to have her lodge visited by a young warrior in the hopes of their union, she turned him out. Then the Indians treated her as a slave and put her to work for the village.
When Kateri was 18 years of age, she began instructions in the Catholic Faith in secret. Her uncle finally relented and gave his consent for Kateri to become a Christian, provided that she did not try to leave the Indian village. For joining the Catholic Church, Kateri was ridiculed and scorned by villagers. She was subjected to unfair accusations and her life was threatened.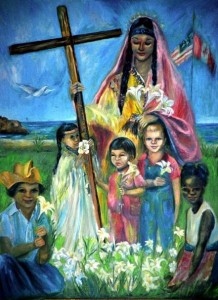 Nearly two years after her baptism, she escaped to the Mission of St. Francis Xavier, who is the patron saint of Missionaries, in Canada.  During her time in Canada, Kateri taught prayers to children and worked with the elderly and sick. She would often go to Mass both at dawn and sunset. She was known for her great were filled with great suffering from a serious illness. She died on April 17th, 1680. Tradition holds that Kateri's final words were . . ."Jesus,  I love you", after which she embraced her creator for all eternity.
Witnesses reported that within a few minutes of her death, the pockmarks from smallpox completely vanished and her face shone with radiant loveliness.
Before her death, Kateri promised her friends that she would continue to love and pray for them in heaven. Both Native Americans and settlers immediately began praying for her heavenly intercession. Several people, including a priest who attended Kateri during her last illness, reported that Kateri had appeared to them and many healing miracles were attributed to her.
St. Kateri Tekakwitha's Feast Day is July 14. Because of her purity, she is known as the "Lily of the Mohawks."  Pope Benedict XVI canonized Kateri on World Mission Sunday, October 21, 2012. He called St. Kateri the "protectress of Canada and the first Native American saint" and he entrusted to her "the renewal of the faith in the First Nations and in all of North America." 
Archbishop of Philadelphia, Charles J. Chaput, who is of American Indian descent, said, "I think many young people today are embarrassed about embracing the Catholic faith because they live in a secular culture that's hostile toward religious experience. St. Kateri also grew up in a place where there was great hostility toward Christianity, but she resisted all efforts to turn her away from her faith, so in some ways, she would be a model of fidelity in the face of persecution on religious freedom grounds."
Suggested Missionary Action:  Let us ask St. Kateri Tekakwitha to guard and guide those who are not yet followers of Christ. We can pray that they open their hearts to the great gift of faith.
Saint Katharine Drexel




Our own Philadelphia Saint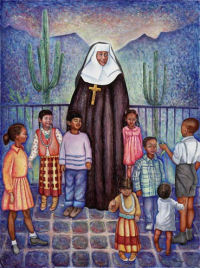 Francis Drexel, a wealthy Philadelphia banker, gave generously to charity.  Francis' wife, Emma Bouvier, opened their home three times a week to give food and clothes to the poor.  Their daughter, Katharine was formed by this example.  But when fourteen year old Katharine was called by Christ, her family dissuaded her.  She too had her own doubts.  "I do not know how I could bear privations of poverty of the religious life.  I have never been deprived of luxuries."
In her travels to America West, Katharine saw the squalor and poverty of the Native American reservations.  After her father's death in 1885, she used her inheritance to fund schools for the native people.   A visit to Pope Leo XIII to beg for missionaries reawakened the desire of her youth.  "Why don't you go to them yourself" he suggested.
In 1891, Katharine and thirteen companions pledged to serve people of color as the Sisters of the Blessed Sacrament.
Katharine's strength was the Eucharist, and she wished to share the love of Christ through her missions.  Schools were a priority.  In 1915, she established Xavier University, the first Catholic university for African Americans.  Katharine died in 1955, having founded one hundred and forty- five missions and over sixty schools.
St. Monica
Patron Saint of Mothers
The circumstances of St. Monica's life could have made her a nagging wife, a bitter daughter-in-law and a despairing parent, yet she did not give way to any of these temptations.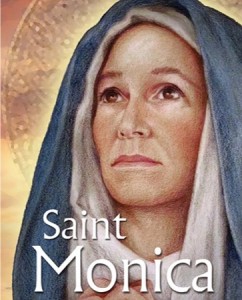 Our knowledge of Monica comes almost entirely from the writings of her much-loved son, the great Doctor of the Church, St. Augustine of Hippo. His relationship with his mother was a close one, especially during Monica's last years. In Book IX of St. Augustine's "Confessions" he gives us many details of her life and expresses his gratitude for her devotion in moving terms. Monica was born about the year 332 in Tagaste, North Africa, of a Christian family of some substance. We are given one episode of her childhood which suggests a possible origin for her firmness of will. She was sometimes sent down to the cellar to draw wine for the family, and fell into the habit of taking secret sips. She developed such a passion for wine that before long she was drinking great draughts of it whenever opportunity offered. One day a family slave who had been spying on the little girl denounced her as a wine-bibber, and Monica, covered with shame, gave up the habit. Soon afterwards she was baptized, and thenceforth seems to have led a life of irreproachable virtue.
Although she was a Christian, her parents gave her in marriage to a pagan, Patricius, who lived in her hometown of Tagaste in North Africa. Patricius had some redeeming features, but he had a violent temper. Monica also had to bear with a cantankerous mother-in-law who lived in her home. Patricius criticized his wife because of her charity and piety, but always respected her. Monica's prayers and example finally won her husband and mother-in-law to Christianity. Her husband died in 371, one year after his baptism.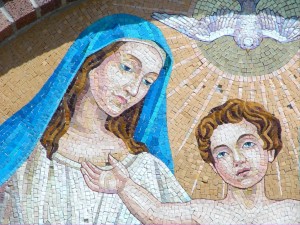 Monica and Patricius had three children, Navigius, who seems to have been an exemplary son, Augustine, and Perpetua, a daughter, who became a Religious. Augustine, the more brilliant of the sons, was sent to Carthage, so that he might develop his talents and become a man of culture. He took to learning naturally, but he also spent time in youthful carousing. Monica was distressed to learn that her son was living an immoral life, so much so, that she refused at first to allow him to live at home.
She relented only after having seen a vision. One day as she was weeping over his behavior, a figure appeared and asked her the cause of her grief. She answered, and a voice issued from the mysterious figure, telling her to dry her tears; then she heard the words, "Your son is with you." Monica related this story to Augustine, and he replied that they might easily be together if she gave up her faith, for that was the main obstacle keeping them apart. Quickly she retorted, "He did not say I was with you: he said that you were with me." Augustine was impressed by the quick answer and never forgot it. Although his conversion was not to take place for nine long years, Monica did not lose faith. She stayed close to her son, continually fasted, prayed, and wept on his behalf. In fact, she often stayed much closer than Augustine wanted.
When he was 29, Augustine decided to go to Rome to teach rhetoric. Monica was determined to go along. One night he told his mother that he was going to the dock to say goodbye to a friend. Instead, he set sail for Rome.  By going to Italy, Augustine had hoped he could free himself from his mother, however he could not escape from her prayers.   Monica followed her son the Italy.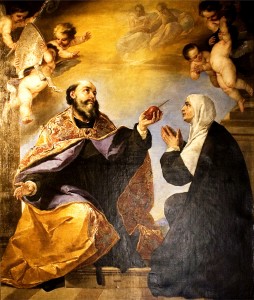 She continued her prayers for Augustine during his years of instruction. At Easter, 387, St. Ambrose baptized Augustine and several of his friends. By his marvelous conversion, Monica's sorrow had turned to joy.   Although no one else was aware of it, Monica knew her life was near the end. She told Augustine, "Son, nothing in this world now affords me delight. I do not know what there is now left for me to do or why I am still here, all my hopes in this world being now fulfilled." She became ill shortly after and suffered severely for nine days before her death.
Excerpts from American Catholic and Eternal Word Television Network
May 23 marks the date for the First Beatification in Kenya, Africa – Sister Irene Stefani, a Consolata Missionary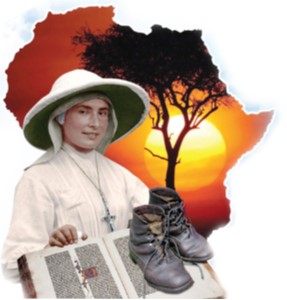 On May 23, all eyes will be set on Dedan Kimathi University grounds in Nyeri, Africa, where the Italian missionary, Sister Irene Stefani, of the Consolata Missionaries is buried and will be beatified.  This is great news for Kenya, one of the countries that is supported by the Pontifical Mission Societies. 
The Archbishop of Nairobi, Cardinal John Njue, will preside over a solemn liturgy on this day, while the rite of beatification will be chaired by the Archbishop of Dar es Salaam in Tanzania, Cardinal Polycarp Pengo. The Bishops of Kenya and those of other African countries, along with priests, Missionaries and Religious women, especially the Consolata Missionary Sisters will be present. Even the highest authorities of the State, many of whom studied at institutions of the Consolata missionaries assured their presence. It will be the first beatification ever to be celebrated in Kenya.
"The beatification encourages us to take up the legacy of Sister Irene, made of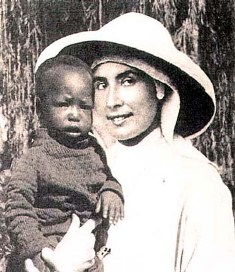 simplicity and evangelical Missionary passion, compassion, authenticity of life, ability to understand and touch the heart of others," wrote Sister Simona Brambilla, Superior General of the Consolata Missionaries. 
The people nicknamed her "Nyaatha", which in the Kikuyu language means "mother all mercy and love": a name of great esteem and respect that highlights how much her work was appreciated.
Mercede Stefani was born on August 22, 1891 in Anfo in Val Sabbia (Brescia, Italy).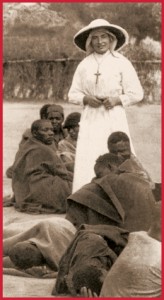 In 1911 she joined the Consolata Missionaries. She assumed the name of Sister Irene when she became a novice. At this stage,  she committed herself totally to her formation in order to be a messenger of God and an exemplary Missionary Sister. On January 29, 1914, she consecrated her life to God by taking the Religious vows and on December 28th of the same year, she left for Kenya, where evangelization was at the beginning and schools and health services were almost non-existent.
When the First World War from Europe spread across the African countries, the Missionaries offered their help in Kenya. When she was very young Sister Irene worked in the military hospitals of Voi – Kenya and Kilwa Kiwinje, Lindi and Dar–es-Salaam in Tanzania. She took up her duties on the wounds of the critically ill, distributing medicines and food, welcoming those in need always with a smile, instilling courage and trust in God's love. From 1920 to 1930 she worked in the Mission of Gekondi.  Acting with unconditional love, Sister Irene taught in the school, brought the word of God through Catechism to the parish and visited those in need in the villages. She would run to help the sick, the dying and anyone who was in need of her help. In the summer of 1930, she started feeling sick, nevertheless, she opted to go to visit a sick person, suffering from the plague. She died at the age of 39, on October 31, 1930.  Source: Agenzia Fides 5/20/2015