Missionaries serving in Lebanon understand the words that Pope Francis spoke about Christian love.  He says Christian love is always "concrete – more in actions than in words, more in giving than in receiving."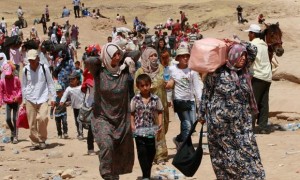 Desperate for help, people in great numbers are fleeing from Syria and Iraq to Lebanon.  They are leaving their own countries to escape war and violence; it is estimated that there are currently over 1.5 million Syrian and a half million Iraqi refugees who are seeking a safe haven.  They are being met by a Lebanese population who are already giving homes to at least a half million refugees. If it sounds overwhelming, it is.
Sister Antoinette Assaf of the Congregation of Our Lady of the Good Shepherd Sisters runs an Outreach Center and Medical clinic in Beirut. She was recently interviewed by Michael Mele, a volunteer for the Pontifical Mission Societies in the Diocese of Arlington, VA.  "We are in crisis," Sister Antoinette said. "Our area was already poor, and mostly Shiite [a Muslim sect in Lebanon].  Now we have 12,000 to 13,000 refugees and more arrive every day.  The cost of living here was low, but has been driven up by demand. Our poor are the ones who suffer most and our middle class is now slipping to poor.  This causes tensions."
The Sisters and their shelter strive to be an oasis of peace in an otherwise troubled landscape.  They are witnesses to God's love in the midst of poverty, distrust and uncertainty.  They welcome and treat people of all ethnic groups and religions.
Just recently a 14-year-old boy, who was being treated for meningitis at their clinic, died.  His mother was so grateful for the care he received that she gave Sister a cross with her son's picture on it.  "The boy and his family are Muslim so this moved us very deeply," said Sister. "His mother confided that we were the only ones who treated her son with love and compassion."  
When Sister is asked about herself, she brushes those questions aside.  "I just wanted to give my life to Jesus — I love children and their families."  Sister wants to continue to bring the love of Jesus to all.
The Catholic Church in Lebanon continues its "concrete" help, the true sign of love that Pope Francis talks about.  Priests, Religious and catechists are witness to the compassion and love of Jesus, according to Reverend Paul Karam, National Director of the Pontifical Mission Societies in Lebanon.  
"We have direct experience of Christian families who have fled from the violence," Father Karam told Fides News Service, a daily source of news on Missionaries.  "There are families who have relatives in Lebanon who have fled here and want to change their lives, looking for work. The Church's response in Lebanon is the hospitality and care of these people: we host them in parishes, provide food and clothing, we assist them at an economic level and insert them into the social fabric."   Father Paul added "And as a Church we continue to promote peace and encourage dialogue."