Imagine if there were children who were filled with hope all because of you? 
Imagine your hands helping Sister Anna of the Missionary Sisters of the Most Sacred Heart of Jesus.  She arrived in the rural village of El Factor in the Dominican Republic and found it to be blessed with beautiful weather and warm, welcoming people.  She also discovered that the village had no educational system for the youngest children.  Parents were very busy, farming the land to grow what they ate or selling used goods that they scavenged to buy luxuries like cooling oil or salt.  This left young children roaming the streets of the village, unattended.
Sister Anna did what any good Missionary would do: she reached out with God's love and asked for a helping hand  to change the lives of the children. 
Sister began El Mundo de los Niños – the World of Children preschool.  In a simple concrete, one room building, she taught the children the basics of colors, numbers and letters. And, of course, each day was filled with the most important lesson of all – who Jesus was and how much He loved them.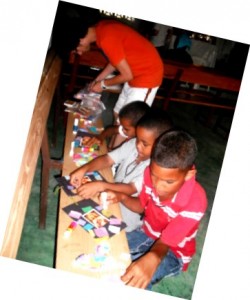 Young Dominican women, inspired by Sister Anna, started their training as Sisters.  This initiated the faith formation of El Factor. And a native Pennsylvanian, Sister Lisa Valentini, began as a Principal of El Mundo de los Niños.  She brought changes . . . No matter what the weather; the little ones had to walk outside, across a sometimes rain-swollen, dangerous creek to an outside latrine built for adults. And there were no school supplies, outdated educational materials, no desks, books in poor condition and a dreary, drab building.  Hardly a place to inspire young learners!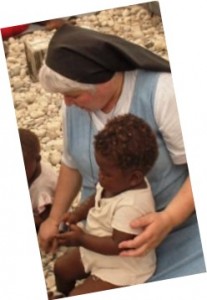 Sister Valentini asked for a hand to help. She returned to the states to work, but continues to regularly visit with teams of young Missionaries, many from Philadelphia. Today the school is a bright and cheery place! The building was transformed with paint and a new facade, desks and chairs are in place and school supplies arrive on a regular basis.   The children going to the pre-school are so well-educated that many skip kindergarten and are advanced to the local village elementary school.
 A New School in Ecuador
School teacher Basilio grew up in another part of Ecuador, the remote jungle in the SE part of the country.  When he was 8 years old, Catholic Missionaries started a church and a school in his village.  Basilio and his family converted to Catholicism.  Basilio was educated with the assistance of the Missionary Childhood Association [MCA].  When he grew up, he knew he wanted to be a teacher.  He moved to a city, and worked his way through college.  He got a specialized degree which prepared him to teach children of multiple ages in the same classroom.  
From the Pacific coast of Ecuador, Basilio traveled an hour up the River Esmeraldes to a village only accessible by boat.  He asked the village elders if he could start a school for their children.  They refused, because they did not trust outsiders.  Basilio went to the Bishop, who suggested he apply to MCA for help.  Basilio received about $8,000 from MCA, and spent the next two years building the school by hand and building a relationship of trust with the villagers. 
The villagers are agrarian, so sending their children to school means losing their labor in the fields.  Attendance at school goes down during planting and harvest times.
Basilio teaches 16 children in the school, ranging in age from 8 to 14 years.  He teaches math, language arts, geography, music, and religion.  Most of the children and their families have been baptized. 
Basilio is the catechist for the village.  Their priest is responsible for Catholics in an area of 100 square miles.  The priest lives an even more remote village three miles up the river.  He tries to get to every village once every two months.  There are no roads, so he travels by boat on the river.
People in these remote areas do not see the priest as often as we do.  Many villages do not even have a catechist.  Most people get their religious instruction from Catholic radio.
Bishop Eugenio, who helped Basilio to obtain support for the school,  is a native of Spain who has been a Missionary in Ecuador for many years.  He knows all the local people, and they know him, just like they have come to know Basilio.