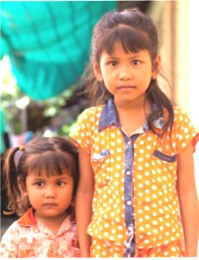 In Cambodia, many families move to the city from the countryside to look for jobs. Soriya, whose name means "sun," her little sister, Chanlina, whose name means "moonlight," and her family are one such family.  They struggled to earn a living with subsistence farming in their village, so a move to the city of Phnom Penh, held promise.
Moving, however, has created complications for seven-year old Soriya.  In the Cambodian school system, children can only be registered at their local school and many do not allow the children to transfer.  Soriya is hoping for her transfer and is locked in at her home during the day, for her and her sister's own protection, while her parents go to work.
Having her school papers is only one barrier for Soriya. Another is the cost to attend school. In Phnom Penh, her parents are lucky enough to both find jobs. As city factory workers they earn less than $65 a month – only about $2 day. School fees of $35.00 a month are therefore impossible to afford.
Darang, a thirteen-year old, is also left at home.  He wanders the narrow dark streets in a drug-infested are of the city, collecting rubbish to earn a little money for his family.
Thankfully, the Lindalva Centre, run by Sister Eulie Desacula and the Daughters of Charity, Missionaries originally from the Philippines, help provide families with the support they need. The Sisters, over the past ten years, have made friends with local families – all among the poorest in the city – by making individual visits to their homes. "It's dangerous for these children to be left all day," explains Sister Eulie. "So we try to encourage the parents to send their children to our center for schooling."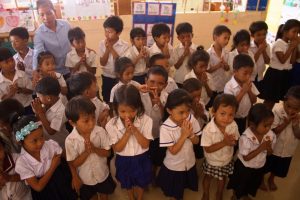 The Sisters encourage the families to send the children to learn Khmer, the native language, English and Math.  Most of all, the Sisters exhibit generosity, care and share the gift of hope by teaching of the "Good News" of Jesus. They also provide the children with lunch, mostly rice, to fill their often empty stomachs.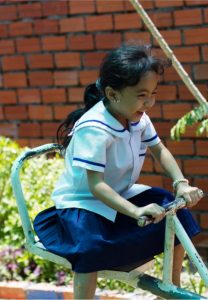 The Centre provides a safe place environment for children to play, make friends and just be kids!! The Lindalva Centre really is a life-changing place.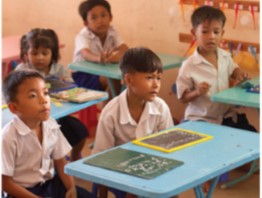 The Sisters need help to keep the Centre open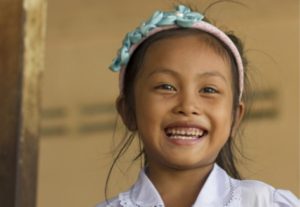 and to pay for school books, food and teachers. The Sisters are also hoping to accommodate older children, so that those beyond the age of twelve can receive an education.
Would you send a gift – a gift of joy and hope – for one child in the Missions?
Through your prayers and generosity, you can give hope to a child, like Soriya or Darang, in 1,111 Mission Dioceses in places like Africa, India and the Pacific Islands.
A gift of $35 helps provide food, care and an education at the Centre, including $5 for a mid-day meal.
 "We work with parents to offer their children further opportunities for studies after they leave our classes. Some become successful leaders," Sister Eulie said, "One young girl now comes back and helps at the Centre. She said, 'Sister, you have changed our lives. We have never showed you gratitude. Let me help you this time.'"