In December 1948, a Spanish Missionary, Sister Guadalupe journeyed to the remote northeastern part of India called Nagaland. Sister Guadalupe of the Sisters of Christ Jesus, was invited by the government to help staff a newly established hospital. No direct evangelization, she was told.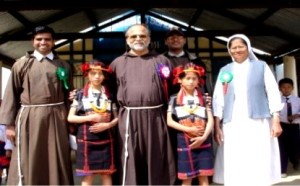 The same directive was given to another Sister from the Sisters of Christ Jesus, Sister Margarita and a Missionary priest.
So Sister Guadalupe tried something indirect. As she visited villages, she planted blessed Religious medals in the soil, praying and hoping for God's grace and the growth of the faith.
Just four years later, Sisters Guadalupe and Margarita left Nagaland.
Within the year, a small Catholic community formed, and government restrictions on Missionaries soon began to ease. Today, more than six decades later, there are close to 60,000 Catholics spread over 35 parishes and 10 mission centers in the Diocese of Kohima, which encompasses virtually all of Nagaland. There are 14 major tribes, with Catholic communities in almost all of them.    
Just last year, a new church, St. Paul's in Peren was built for 1,000 of the faithful.  In fact, in the past five years, your support through the Society for the Propagation of the Faith, one of the Pontifical Mission Societies, helped to build five churches where over 5,000 of your brothers and sisters in this part of the Missions celebrate the Sacraments and attend Sunday Mass.
Generosity to the Pontifical Mission Societies has also helped families in villages care for their children, offering their little ones a place to live and an education. At St. Joseph's Home in Burma Camp, some 45 children, most from poor families, but some orphans as well, are provided with food, clothing, school books and medical care – all for about $70 per child, help that comes from the Missionary Childhood Association, another one of the Pontifical Mission Societies. 
Your prayers and help connect you with the growth of the Church in Nagaland. With this support and perhaps God's graces initially flowing from Sister Guadalupe's prayers and buried Religious medals . . .  there are 175 diocesan and Missionary priests, religious Sisters in 18 Religious Communities and the lay faithful who serve those in need.