CLICK HERE FOR THE 2021-2022 ENTRY FORM
National MCA Christmas Artwork Contest
All children in the Archdiocese of Philadelphia are encouraged to enter the annual Missionary Childhood Association Christmas Artwork Contest.  The Archdiocesan winner's artwork is displayed:
† At the Archdiocesan celebration of World Mission Sunday
† In the Pontifical Mission Societies annual Christmas card
† In the lobby of the Archdiocesan Pastoral Center during Advent
† On www.phillymissions.org
The local winning entries are also submitted to the MCA National Office for the nation wide contest.  The Angel Gabriel proclaimed Jesus' Birth with Joy depicted in the artwork on our Christmas Card.  This image of the Angel Gabriel and stars was created with the Christmas artwork of the 2020-2021 Missionary Childhood Association Christmas contest.
The Missionary Childhood Association, one of the Societies, invokes children to pray and sacrifice for other children across the globe.  It supports projects for children in the 1,111 Mission dioceses.
Congratulations
Benjamin Robbins – Saint Teresa of Calcutta, Schwenksville
our 2020-2021 Christmas Artwork National Winner and his depiction of the Angel Gabriel.
Benjamin is one of twenty-four winners selected from Dioceses across the United States. His artwork will be displayed at the Basilica of the National Shrine of the Immaculate Conception in Washington, D.C. during this Advent and Christmas.  Benjamin will be a part of a National Day of Recognition and receive a Commemorative Plague.   
The 2020 – 2021 Christmas Artwork Archdiocesan Winners creativity is portrayed in the starry Christmas night.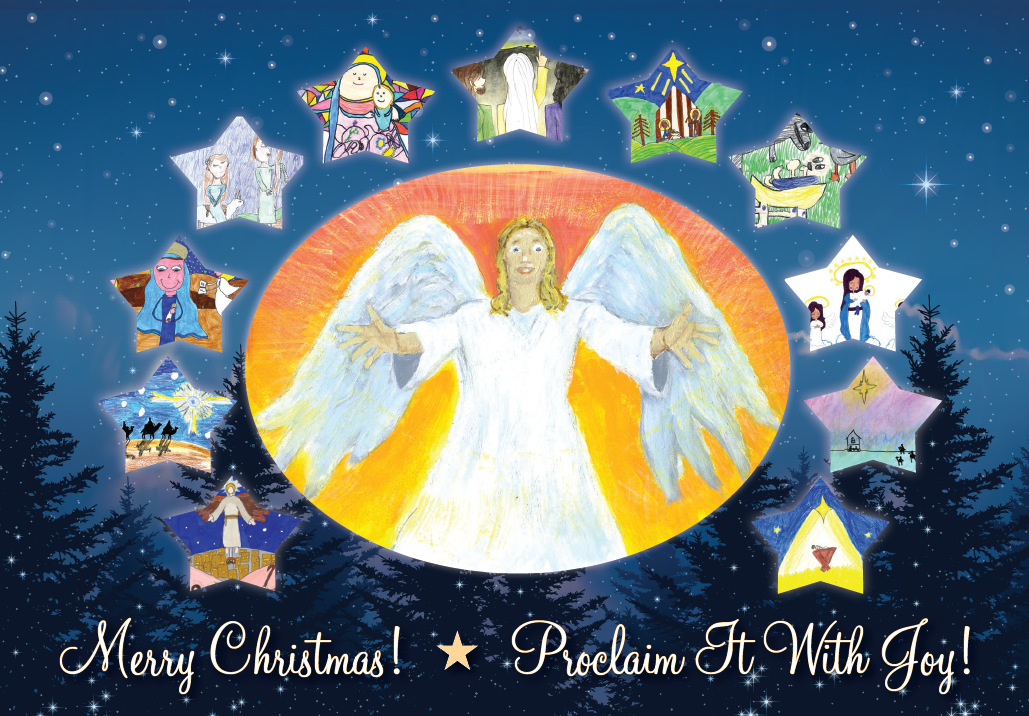 Shown from the left:  Ellis Borrasso – Saint Laurentius, Philadelphia ● Lucas A. Santoro – Maternity BVM, Philadelphia ● Natalia Tomczak – Regina Coeli, Abington ● Fiona Gribbin – Saint Mary Magdalen, Media ● Marguerite Somers – Saint James, Ridley Park ● Angelina Dang – Saint Jerome, Philadelphia ● Vincent Peter Cipriani – Saint Eleanor, Collegeville ● Dashiell Greenawalt – Saint Peter the Apostle, Philadelphia ● Thu Tran – Holy Innocents, Philadelphia ● Gwyneth Seery – Saint Joseph and Saint Robert, Warrington ● Kiera Williamson – Saint Anastasia, Newtown Square ●
Enjoy the full depictions of this faith-filled and creative artwork on phillymissions.org 
| | | |
| --- | --- | --- |
| Angelina Dang – Saint Jerome, Philadelphia | | Lucas A. Santoro – Maternity BVM, Philadelphia |
| Ellis Borrasso – Saint Laurentius, Philadelphia | Kiera Williamson – Saint Anastasia, Newtown Square | Marguerite Somers – Saint James, Ridley Park |
| Dashiell Greenawalt – Saint Peter the Apostle, Philadelphia | Gwyneth Seery – Saint Joseph and Saint Robert, Warrington | Fiona Gribbin – Saint Mary Magdalen, Media |
| Vincent Peter Cipriani – Saint Eleanor, Collegeville | Thu Tran – Holy Innocents, Philadelphia | Natalia Tomczak – Regina Coeli, Abington |