Saint Therese of Lisieux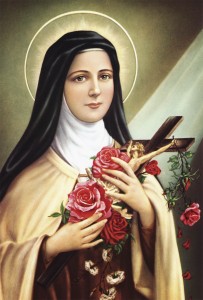 October 1 marks the Feast Day of St Thérèse of the Child Jesus and the Holy Face, Patroness of all Missionaries and the Missions, Patroness of France and Doctor of the Church.
"In spite of my littleness, I would like to enlighten souls as did the Prophets and the Doctors. I have the vocation of the Apostles. I would like to travel over the whole earth to preach your Name and to plant your glorious cross on infidel soil. But…one mission alone would not be sufficient for me, I would want to preach the Gospel on all the five continents simultaneously and even to the most remote isles. I would be a missionary, not for a few years only, but from the beginning of creation until the consummation of the ages."
With these words Thérèse of Liseux expressed her fervent wish to serve God as a missionary.  
Her wish almost came true because her own convent in France was hoping to send some sisters out to a sister house in Saigon, and before her health failed Thérèse had been selected for the missionary enterprise. But by the age of twenty four Thérèse was dead. Her life had been almost totally hidden. At her death she seemed just another obscure nun in a country convent in France. Most of the nuns didn't recognize her great holiness. One said, "I cannot understand why people speak of Sister Thérèse as if she were a saint. She never does anything notable."  Thérèse had great ambitions to serve God, but at her death it looked like her life had come to nothing. Nevertheless on her deathbed Thérèse said she believed God had granted all her desires.
Excerpts from Dwight Longenecker: St Thérèse of Lisieux – Model for Missionaries, The Story of a Soul, Autobiography of St Thérèse of Lisieux, The Hidden Face: St Thérèse of Lisieux
Saint Francis Xavier
December 3 is the Feast Day of St. Francis Xavier, Patron for Missionaries.
on April 7, 1506, Francis Xavier was born in Xavier Castle, located near Sangüesa, in the kingdom of Navarre [part of present-day Spain]. He was a member of a noble family, and his childhood was one of privilege—however, it was disrupted by his father's death, as well as by outside efforts to take control of Navarre.
In 1525, Xavier went to study at the University of Paris. There, he encountered Ignatius of Loyola, who had experienced a religious conversion while recovering from a war wound. Loyola did his utmost to convince Xavier to join him on the same path of devotion.
Though at first hesitant, Xavier was eventually inspired by his friend's example. On August 15, 1534, in the Montmartre section of Paris, Xavier, Loyola and five others pledged themselves to the Society of Jesus [the Jesuits]. In addition to vows of celibacy and poverty, they also promised to visit the Holy Land.
Impressed by the Jesuits, King John III of Portugal asked the order for missionaries to work in his empire. Though Loyola initially selected others for the task, Xavier stepped in when a fellow priest became ill. He left Rome on March 15, 1540.
Xavier arrived in Goa, India, on May 6, 1542. He came to be admired in that country for his ability to live and work side by side with the poor. Seeking more converts, Xavier continued to travel; his stops included Ceylon, the Molucca Islands, the Banda Islands and the Malay Peninsula.
On August 15, 1549, Xavier landed at Kagoshima, Japan. As he had at his other missions, Xavier arranged for the translation of religious texts. These steps helped him reach more converts in the year and a half he spent in Japan.
Xavier's next focus for missionary work was China. He traveled to Sancian (Shangchuan) Island, near Canton, but was not able to access the mainland because borders had been closed to foreigners. Before he could find a way inside the country, illness incapacitated Xavier. He died on the island on December 3, 1552, at the age of 46.
Though he passed away at a relatively young age, Xavier had accomplished much in his life. In addition to being a founding member of the Jesuit order—the Society of Jesus was officially recognized by Pope Paul III in 1540—he baptized an estimated 30,000 people. Xavier was beatified by Pope Paul V in 1619, and canonized by Pope Gregory XV in 1622.
A famed Missionary himself, he is now the Patron Saint of Missionaries.
Celebrate the Feast Day of St. Therese with your children with the Little Way Week Activity and Coloring Sheet.  Click here for the Little Way Week Instructions and Coloring Sheet.
INTERESTING FACT!  
St. Thérèse was a contributor to the Missionary Childhood Association [then called the Holy Childhood Association], one of the Pontifical Mission Societies. AND Archbishop Sheen was a member of the Carmelite Third Order and therefore very aware of the "Missionary power of Carmelite contemplatives such as St. Thérèse."  Both shared a love and special patronage for the Blessed Mother  Sheen was dedicated to Our Lady at Baptism;  Thérèse wrote Story of a Soul under Mary's patronage, as well as a love for the Missions of the Church.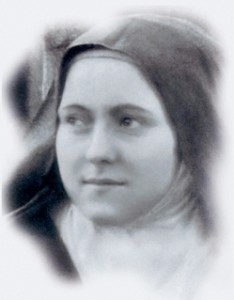 Who has not heard of the Little Flower? The entire Catholic world knows of, and fondly gives, this sweet title to Sister Theresa of the Child Jesus. Little Therese, another gentle name for this most amiable Saint, is the most prominent and popular of recent Saints. Her beatification by the Church in 1921, and canonization in 1923, following so soon after her death in 1897, give a brilliant testimony of her extraordinary holiness. It would seem that God hastened to proclaim her sanctity, performing many miracles in her favor, in order that mankind might as soon as possible, through her intercession, obtain heavenly graces and favors.
St. Therese was born at Alencon in France, January 2, 1873. At the early age of 15, she began the life of a cloistered nun by entering the Carmelite Convent in Lisieux. In the convent, she led a life of absolute trust and surrender to God, advancing in saintliness by her simple and childlike attachment to Jesus. To love the Infant Jesus–to be His friend–to think of Him and do everything in His honor; to tear herself away from this world, and fly to heaven–to be eternally united with Him; to love her neighbors doing good to others with a childlike devotion–these were the outstanding characteristics of the Little Flower of Jesus. She died, esteemed as a Saint, on Sept. 30, 1897.
 Saint Therese took the world by storm and drew, people from all walks of life. This Little Flower receives petitions in all forms and constantly pours down from heaven her promised "shower of roses." Saint Theresa, who spent her whole life without leaving her own corner of France, is Patroness of the Missions. Acquainted early with the work of the missions, she made them the object of her prayers and sacrifices.
All though St. Therese could not go to the missions because of her poor health, she was as authentic a missionary as Ft. Francis Xavier, patron of Missions and missionaries, by her prayers and sufferings, and her encouragement through her many letters to missionary priest serving in Malawi and China. 
"You have united me forever with the works of a missionary, by the bonds of prayer and suffering and love," she wrote as a poem prayer to the missionary priest serving in China.
St. Therese, patroness of the Missions, would be quick to tell us this is the work of the Missionary and we are all Missionaries because we have been baptized and told to go out to all to bring the light of Christ wherever there is darkness.