Help Loved Ones  . . . and Missionaries with Prayers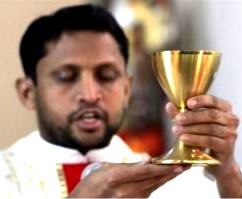 Father Xavier, a priest stationed at St. Antony's, a Mission parish in the one of the newest in Kerala, India – Sulthanpet, has requested Mass intentions and tells of how he will help his people:
"This is an agricultural area. There are no industries or factories. People live in villages and depend on seasonal agriculture for their livelihood. Farming depends on rain; when the rain fails, the crops also fail. Some of the villagers also look after cattle and sheep. The people are illiterate, but hard working, surviving on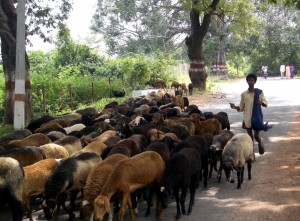 day-to-day existence. The people of the parish are landless laborers earning their daily bread by working in "slave-like" conditions – in India belonging to lowest community in the society. Parents, barely able to provide food and shelter for the children, are not able to educate their children by paying for school fees, uniforms, books, so on. With Mass intentions, I will be enabled to assist in setting up a training program for children; purchase books, uniforms, charts and stationary items and help provide a portion for tuition.   By educating these poor children they may become good Christians in the future. Education has a great value for these children, an asset for their livelihood. In helping the children, I am able to exercise a ministry of evangelization to this children and to my parishioners."
Mass intentions distributed by the Society for the Propagation of the Faith are given directly to Bishops, for equal and even-handed distribution, knowing the needs for their priests and Religious, just like Father Xavier in Mission dioceses.  Mission dioceses are where the Church is new, or poor and are helped until they become self-sufficient.

Masses for Loved Ones
Spiritually, as you unite yourself with the priest who offers the Sacrifice of the Mass for your intentions, you share a bond of great strength: love of Christ in the Eucharist, trust in His love for you and faith in the power of prayer.
Through the Mass offering, you are united in love of Christ in the Eucharist and faith in the power of prayer  
A Mission priest will celebrate Mass for you, a friend or family member, living or deceased. 
Your Mass Offering is a special help to a Mission priest, poor himself and serving among the poorest of the human family. For many Mission priests, Mass Offerings are a substantial means of day-by-day support.Mass intentions are sent to Priests in Mission dioceses world wide — to Africa, Asia, islands of the South Pacific & remote regions of Latin America.
Mass Offerings
Ordinary Enrollment—10, 20 or 30 Years:  The person or intention is remembered in over 15,000 Masses annually said by Mission priests for the number of years enrolled. 
Perpetual Enrollment-Individual/Family:  The person or family is remembered always in over 15,000 Masses annually said by Mission priests.
$5 or $10 Mass for Individual or Family:  Mass cards are available for Living or Deceased Persons or Intentions. 
Novena Masses: Nine consecutive days of prayer are offered for the person or intention.
Set of Gregorian Masses: Thirty consecutive days of prayer are offered for the deceased.
World of Masses: A Mass will be celebrated by a Mission priest on each continent of the world for the person or intention.
To have a Mass celebrated by a Missionary Priest, download this Mass Card Form updated April 1, 2018  [click on the words to download] with mailing instructions  
OR use your credit card and complete one of the forms below on our secure website:  
For all Masses for any Person, Intention, Gregorians, Novenas or Masses around the world click Here

For Annual or Perpetual Enrollments click Here
Each Enrollment comes with your choice of a Memorial Print.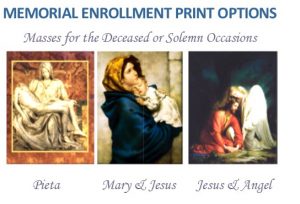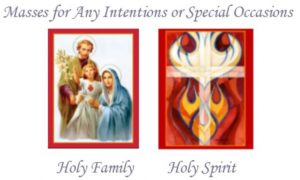 Contact us if there is a special occasion or some other type of Memorial print that you would like to be included in the Enrollment Mass.  We can create other versions for use.