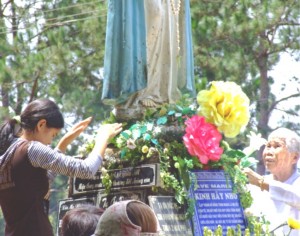 Devotion to the Blessed Mother is deep and strong in many Mission lands as they may recognize Mary as the Queen of Missions, especially in the month of May. 
Mary was an incredibly perceptive woman and she paid close attention to Jesus' every word and action.  The subtleties of His teaching were not lost on her; she progressively came to realize the unfolding mystery of her own unique motherhood.  As the Mission of her Son grew clearer to her eyes and spirit, Mary herself, as a mother, became ever more open to that new dimension of motherhood which was to constitute her "part"beside her Son. 
If she had not said from the very beginning, "Behold, I am the handmaid of the Lord. May it be done to me according to your word," Luke 1:38 her understanding and strength of acceptance of the truth may not have been made possible.  Through faith Mary continued to hear and to ponder that word . . .  thus in a sense Mary as Mother became the first "disciple" – the first Missionary of her Son.  She became the first to whom he seemed to say, "Follow me!" 
Mary's faith and example is a model for Missionaries throughout the world.  She not only shows the need for prayer, as she consistently "ponders" what she is seeing and experiencing throughout the life of her beloved Son, Jesus, but also reaches outside herself and serves.  Pope Emeritus Benedict XVI explained this during his papacy:
In the Virgin Mary who goes to visit her relative Elizabeth, we recognize the true meaning and the way of the Church herself.  The Church is Missionary by nature, called to proclaim the Gospel everywhere and always.  Mary's is a true Missionary journey . . . one that leads her far from home, leading her into the world, in places foreign to her daily activities; it makes her reach, in a sense, to the very ends of where she can reach."  Pope Benedict, Agenzia Fides, May, 2010  
In May, pray for the intercession of Mary to provide for the needs of Missionaries, giving them the strength say "Yes" to Jesus' request to "Follow me!" to the ends of the earth and serve the poor and needy throughout the world. 
Consider also saying "Yes" to help those who already have responded to Jesus' call as Missionaries.  Donate now to the Pontifical Mission Societies, the Pope's chief representatives to help bring the Gospel and humanitarian relief to countries where the Church is new, young or poor.  Your contribution will support the over 1,111 Mission Dioceses and their Churches until they have the necessary means to sustain their faithful in both their spiritual and physical needs.
Excerpts; St. John Paul II on Mary by Reverend Michael Gaitley