Although the celebration of the Jubilee Year of Mercy, proclaimed by Pope Francis, for the universal Church, has come to an end, each day is a  good time to reflect on what is Mercy. 
In contemplating, what is Mercy, our minds and hearts fill with thoughts of compassion, forgiveness, kindness, generosity and benevolence. 
Ask yourself, are these words that describe YOU? . . .
Are these words that describe your actions?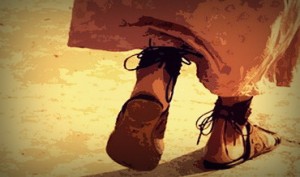 Jesus' example teaches us that these are words one should live by, actions one should take, footsteps one should follow.  The Corporal and Spiritual Works of Mercy provide the pathway.
The Seminarians, Religious Brothers and Sisters in the Missions, who are being educated and formed through the support of Society of St. Peter Apostle, one of the Pontifical Mission Societies, walk in Jesus' footsteps daily. 
These students, while in formation, work in pastoral ministry for the greater service of the Mission Church.  In their ministries, we see the imprint of their compassion as they feed the sick, elderly or infirmed. Their generosity is a mark of kindness to those most in need as they provide clothing, shelter and charity.  Their benevolence leaves a long-lasting and hopeful impression as they spread the Good News of Jesus Christ and help educate those they serve.
The Society of St. Peter Apostle supports the formation of these men & women candidates for Religious life in the Missions. In its first year, in 1889, the Society of St. Peter Apostle sent help to 2,700 Seminarians in the Missions, including some in the United States. Today, over 30,000 young men in seminaries throughout Africa, Asia & the world receive $700 annually for their education and board. Similar support is also provided for Religious Sisters & Brothers.
Your generous support of the Society of St. Peter Apostle helps provide these men and women with financial support as they receive their formation and begin to follow in Jesus' footsteps towards the service of those who are in so much needs.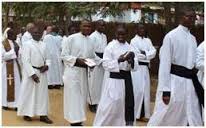 One such program of education and service in the Mission lands is the Farming Sustainability Initiative.  Sister Leah Njoroge, a member of the Little Sisters of Saint Francis Assisi in Kenya, Africa, is a student of this program.  Sister is learning about weather patterns, irrigation methods, and good soil techniques, all to increase the crop yields that will help sustain the Sisters and those they serve.  In addition to going to her agricultural school at Tangaza University, Sister Leah along with her community care for orphans, children with disabilities, single mothers and refugees. 
Learn more about this Initiative Program from this article: Farming Initiative Catholic News Service Story
Sister Leah explains "Our farm produces quality, affordable local chickens for meat and eggs, nutritional vegetables and fresh milk.  We promote a healthy community and provide jobs."  The farm is just one of the many ways the Sisters follow in the footsteps of Jesus, with loving care, nourishing the children with good food and God's love. 
Your donation of $20 helps educate Seminarians, and Religious Brothers and Sisters on crop cultivation.
Your donation of $50 buys two chickens for the farm
Your donations of $60 monthly [$700 a year] allows Sister Leah to attend Tangaza University where she and other Religious sisters study business and agriculture OR can educate and provide boarding for a young Seminarian or Religious Brother for a year.
Your donation of $125 educates a child for one year and provides a hot meal each day.
YOU can take the path of Mercy following in Jesus' Footsteps . . .
Please give your prayers and support for Missionaries. These very generous gifts to the Society of St. Peter Apostle, one of the Pontifical Mission Societies, which offers a concrete way for you to walk in Jesus's footsteps
It will certainly keep on giving, allowing Sister Leah and other Missionaries to continue serving those most in need.
YOU can respond to the invitation of Pope Francis in this Jubilee Year of Mercy to . . .
"have a heart open to the fringes of society and bring consolation, mercy and solidarity to people who live in precarious situations; encourage prayer and the sacrament of reconciliation; and take up the corporal and spiritual acts of mercy with joy."   Excerpt from Misericordiae Vultus-Pope Francis
Let us allow God to fill our hearts with His goodness and mercy.  Pope Francis