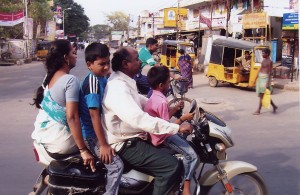 Everyone in the world can thank the United States for developing the modern version of Father's Day.  The celebration originated here and spread to other countries around the world. The idea of Father's Day came to its originator, Sonora Louise Smart Dodd, as she listened to Mother's Day homily in 1909. Sonora pondered if there is a day to honor Mother then why not for Father? Sonora felt strongly for Fathers because of the affection she received from her own father. Sonora's mother died while childbirth and her Father raised the newborn and five other children with love and care.
The celebration of Father's Day has also taken hold in Mission lands throughout the world.  In India, the celebration is similar to the United States with children expressing gratitude and love for Papa. Additionally, many schools and cultural societies in India organize cultural programs on Father's Day. The idea behind such program is to inspire children to pay due respect to their dad and take care of them. Fathers are also encouraged to spend quality time with their children and instill in them noble values and manners.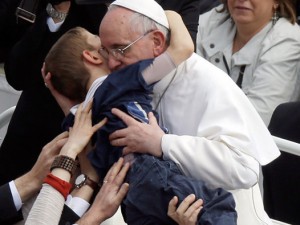 Speaking to some 7,000 people at a Wednesday audiences, Pope Francis spelled out that "time" was one of the essential, but demanding, things it takes to be a good father.  He said, "The most important is being present, first by being by his wife's side to share everything, joy and pain, hard work and hope and then by being there for his children as they grow."    
"A father is there for his kids when they play and when they work hard, when they are playful and when they are distressed, when they are communicative and when they are taciturn, when they are daring and when they are afraid, when they have strayed and when they have found their way again," he said and then continued, "But a good father also knows how to forgive sincerely from the heart and be patient and merciful, like the father in the Gospel account of the prodigal son."
Pope Francis continued, "How much dignity and how much tenderness in that father who is waiting by the door, waiting for the child who has strayed" VIS, 28 Jan 2015
Give your Father a Mass to be celebrated on each of the FIVE Continents of the World   
A perfect gift! Give Masses to your Dad and provide special help to a Mission priest, serving among the poorest of the human family.  For an offering of $25, a Mass will be celebrated for your father, grandfather, uncle or loved one by a Priest on each continent.
Click HERE to order a World of Masses securely on-line or send this Mass Card Form via US Mail
Father's Day around the World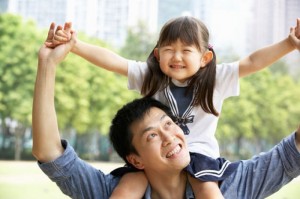 In China, Father's Day is celebrated on August 8, because the date [8/8, roughly pronounced "ba-ba" in Mandarin] sounds similar to the Mandarin word for "father." In bigger cities like Taiwan and Hong Kong, the holiday is similar to Eastern version of the holiday, making it a popular day for gifts and going out to dinner.
For some nations, holidays similar to Father's Day are tied closely to national pride, where fallen soldiers, war veterans and monarchs receive special tribute. In Nepal, the celebration of the father known as Gokarna Aunsi, which takes place in late August/early September, is a serious ritual. Sons and daughters give their fathers gifts and participate in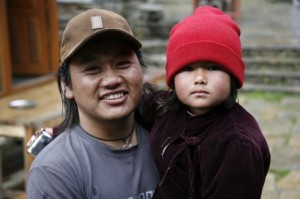 a ceremony that involves looking them directly in the eyes. The celebration also honors recently deceased fathers.
In much of the world, the Father's Day celebration is similar to the United States, however, some places have much older traditions praising Dads that are connected to Catholic holidays, most notable St. Joseph's Day [March 19] or the Ascension [40 Days after Easter].
From reflecting on your Dad's face to a special school program, or even, a state-wide Dad pageant held in Victoria, Australia, one thing is important in all of the Father's Day celebrations world-wide, and that is, appreciating the love that a Father gives and understanding him as we do our Father in heaven.