The Sisters of Don Orione [Little Missionary Sisters of Charity, PSMC] of the Italian Province have launched an appeal in order to face the Covid-19 pandemic which has severely affected the regions and activities in Northern Italy. Even in this time of emergency, the PSMC continue to carry out their work of assistance all over the world, trying to face the new difficulties. In Italy, they take care of the disabled children in Piccolo Cottolengo, the disabled of Casa Serena, the communities of minors in Palermo and all of the elderly in homes, as well as their own elderly Religious nuns.
"More than a month and a half has passed," writes Sister Gabriella Perazzi, Provincial Treasurer, since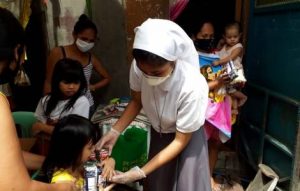 suddenly everyone's life has been changed for so many things for the worse. The best I hope and think we will see later. However, something has also remained stable: our work of assistance and taking care of our disabled, the elderly and minors. These are people and their many realities that we manage together with our lay staff and volunteers. In this time of trial, we will try to overcome as best as we can. Unfortunately, we have also had to mourn the loss of nine of our Sisters. We continue to worry for many others who are still fighting with this invisible enemy.
"There is a need," writes Sister Gabriella, "for help, both financially, but also of basic necessities, like food, personal hygiene items, household cleaners, diapers, gloves, drugs, medical items, etc. Everything will be distributed, as needed, in our houses of the Italian Province."
The Superior General of the PSMC, Sister M. Mabel Spagnuolo, taking inspiration from the Letter of the Holy Father to all the faithful for the Month of May 2020, to pray the Rosary and to Mary, invited the whole congregation to celebrate a special Marian Month. "with the aim to entrust all humanity to Mary in this time of great suffering and ask God, through His intercession, for the grace of the end of this pandemic."
"Don Orione," writes the Superior General, "consecrated and entrusted his Sons and Daughters to Mary Most Holy, Immaculate and Mother of God many times, and he himself would have accepted this invitation from the Pope with great faith, enthusiasm and devotion".
Information from Agenzia Fides