A Missionary in Thailand reflects on this country's obsession with the number "9" and the Birth of Jesus at Christmas.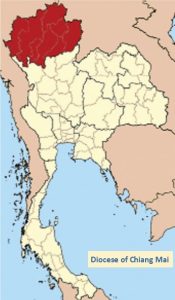 Don Attilio de Battisti, a Missionary in Lamphun, in the diocese of Chiang Mai, spoke about the phenomenon in Thailand with the number "9" . . .  "In Thailand," he says, "many Buddhist rites, parades or civil ceremonies start at 9.09. The 9-level parasol above the temples indicates a temple of royal rank. The banknotes whose serial number has so many 9 is worth ten, twenty times its value. 9 is the most present number in tattoos. Covers, clothes, everyday objects have the much-loved number. Even the prices of many things are 99 or 999 Bath, and this is not because it seems less expensive but because 9 is considered a lucky number."
"Numbers have also become fundamental to classify people: how many 'followers' do you have on social networks? How many views does your video have? How many 'likes' did you receive? How many contacts do you have? Everything is counted and the validity or goodness of a thing is measured by numbers," the Missionary adds.
"Even in religion – notes Don de Battisti – we weigh the proposals or initiatives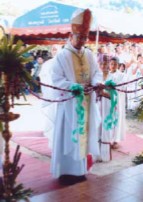 starting from the figures. Are we many or are we few? More anniversaries are celebrated: 60 years since the Council, 50 years since its foundation, 100 years since the publication of the document. For three years, the Church in Thailand has prepared the 350th anniversary of the establishment of the 'Mission of Siam', the official start of local Christianity [1669-2019]. For our diocese of Chiang Mai, 2019 will be the 60th anniversary of the Diocese."   Pictured on the left, is Bishop Francis Xavier Vira Arpondratana, as he begins the opening ceremony of the Anniversary of the Diocese.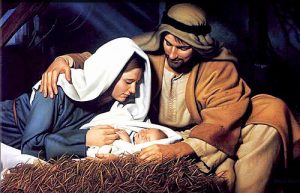 "Christmas, on the contrary, recalls the low profile that Jesus chooses. Few 'followers', a few close friends, little visibility, little numerical gratification, little importance to calculations. A real failure – if we think of numbers but a very powerful message of method. Jesus scales down the influence of numbers in our choices and at the same time trains us to humility and discretion," concludes Don Attilio. Have a blessed Christmas!
                                                                        Excerpt from Agenzia Fides, 12/18/2018