November 22, 2018 at the Archdiocesan Pastoral Center
All you need to know about Archdiocesan Mission Day & Night

Click here for a summary of information about the Event:
MCA 2019 MCA Mission Day Night Promo
Click for each Form to attend the Archdiocesan Mission Day:
Click for each Form to attend Archdiocesan Missionary Discipleship Night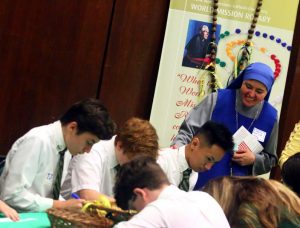 To reawaken the Missionary spirit among young people in Philadelphia and celebrate this Extraordinary Year, the Missionary Childhood Association hosted it's first Archdiocesan Mission Day.   
The Missionary Childhood Association invited Elementary School principals to send Mission-minded STUDENTS and a chaperone to join us on May 6, 2019 at the Archdiocesan Pastoral Center from 9:30 AM to 1:00 PM for a day of Mission animation, service and a meet and greet with local Missionaries. 
The gathering concluded with Lunch, and a Mission Mass celebrated in the Cathedral Basilica of Saints Peter and Paul Chapel.  Mission Ambassadors returned to their school to inspire their peers to be Missionary from what they learned.
CLICK HERE to view photos and read the article by CatholicPhilly.com on the Inaugural Mission Day