A disciple of Christ follows in his footsteps.  From the day of your Baptism, you are called to be Missionary. 
Through prayer for the poor, unity with the needy, concern for those who do not know Christ, your life is lived close to Jesus.
Mission diocese are supported, in prayer and sacrifice, through three Pontifical Mission Societies.
The Society of the Propagation of the Faith supports the evangelization efforts of the local church.  From constructing churches and health clinics, to purchasing bicycles so catechists can travel among villages.  As local needs change each year, so do the evangelization projects funded.
The Missionary Childhood Association [MCA] has a dual mandate of educating children about their part in the Church's Missionary work and challenging them to share what they have with the children in Mission lands learning their faith.  The MCA motto is, "children helping children."
St. Peter Apostle has supported the training of our next generation of Mission priests and Religious Brothers & Sisters.  Today, some 30,000 seminarians, mostly in Africa and Asia, receive an annual subsidy of $700 per student. "No vocation is born of itself or lives for itself.  A vocation flows from the heart of God and blossoms in the good soil of faithful people, in the experience of fraternal love." Pope Francis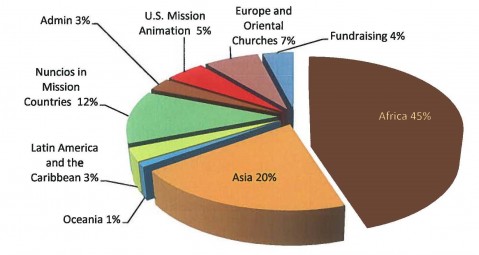 Everyday the Church's Missionaries Needs Your Support!  Help TODAY!

Pray Daily for the Church's Missionary work

– Pray the Our Father * Hail Mary * Glory Be * and to the Patron and Patroness of Missionaries, * St. Francis Xavier, pray for us.* St. Thérèse of Lisieux, pray for us.

Offer your Personal Sacrifice

– your pain, your loneliness, your anxiety, your sickness or sadness – in union with the sufferings of the crucified Christ for the redemption of the world.

Enroll in the Monthly Giving Club

– Pledge to give a gift to the Missions each month. Every dollar provides for those who tell the "Good News" of Jesus and brings His love to the poorest in our human family. With your prayers and financial help, you take part in Jesus' Mission to people around the world! In thanksgiving, you are included in the intention of 15,000 Masses celebrated in the Missions each year.
To Enroll in the

Monthly Giving Club 

use the Form 
Donate on-line with utilizing your Credit Card at our safe, secure site
Email your address to pofaith@archphila.org 
Call

215-587-3944

with your address   

 
Planned Giving Opportunities – Gift Annuities
Why wait to give?
Help ensure your Financial Future while helping to support the Missions
What Is a Pontifical Mission Societies Charitable Gift Annuity?
With a Gift Annuity you can make a gift to the Pontifical Mission Societies to help bring the Gospel today while preserving your future well-being. A Gift Annuity with a charitable organization, such as, the Pontifical Mission Societies, is a legal agreement by which, for a gift of money, securities or property you are guaranteed a fixed, steady income that will never run out as long as you live.  
How Do They Work?  
Donate your stocks and investments
Outright gifts of appreciated securities—stocks, bonds and mutual funds—are a meaningful way for you to help the Societies respond to our Missionaries needs.
Making these gifts is easy!
You can transfer most gifts of stocks electronically from your brokerage account to the Pontifical Mission Societies Archdiocese of Philadelphia brokerage account.
Your gift of a vacation home, a primary residence, agricultural land or other real estate property will also help the Pontifical Mission Societies.
You may give real estate gifts outright to Pontifical Mission Societies or use them to fund a life income gift, such as a deferred gift annuity or a charitable remainder trust. That way, you'll avoid an immediate capital gains tax, enjoy a current charitable income tax deduction, benefit from a new income stream and help champion the work of the Pontifical Mission Societies.
Because each real estate gift is unique, we're here to help you explore the possibilities. The staff can provide you with additional information on any of these options and will gladly assist you confidentially and with no obligation. Please call our office at 215-587-3944 or email us.